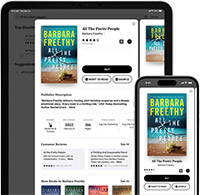 Apple har släppt några ljud-böcker där texten är inläst av röster som genererats med hjälp av artificiell intelligens (AI) skriver The Guardian.
Böckerna som lästs in av Apples AI-röster kommer från mindre oberoende förlag, förlag som inte har råd att betala de priserna för professionella ljudboksinläsare.
Apple skriver om sina AI-röster:
Apple Books digital narration brings together advanced speech synthesis technology with important work by teams of linguists, quality control specialists, and audio engineers to produce high-quality audiobooks from an ebook file. Apple has long been on the forefront of innovative speech technology, and has now adapted it for long-form reading, working alongside publishers, authors, and narrators.
---